Providing Home Tuition Opportunities
Earning Potential
10,000/month (2hr/day) -- 25,000/month (3-5hr/day)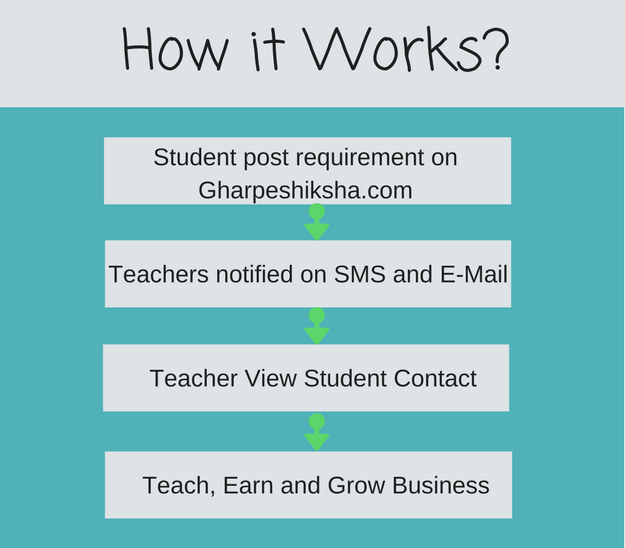 GharPeShiksha is a Platform that is narrowing the gap between Students and Potential Teachers looking for Home Tuition in Delhi. It is helpful for the one who wants to earn part time extra income just by Sharing their valuable Knowledge through Home Tuitions.
GharPeShiksha is a Tradename registered with company name Tenali Education Academy Pvt. Ltd.
There will be the Membership Plans to Buy Contact Views of Students.We do not charge any Commission from teachers.

ESHITA SHARMA

| | |
| --- | --- |
| Experience | 2 Years |
| Qualification | Msc(microbiology)(goldmedalist ) B.Ed |

SADASHIV CHAUDHARY

| | |
| --- | --- |
| Experience | 8 Years |
| Qualification | B.a math |

KARTAVYA NITIN KUMAR SINGH

| | |
| --- | --- |
| Experience | 1 Years |
| Qualification | MBA |

RASHMI KUMARI

| | |
| --- | --- |
| Experience | 1 Years |
| Qualification | 12 th pass |
PRABHJOT KAUR

| | |
| --- | --- |
| Experience | 2 Years |
| Qualification | pursuing graduation |

PRAKASH

| | |
| --- | --- |
| Experience | 9 Years |
| Qualification | B.sc |

AKSHAY KUMAR

| | |
| --- | --- |
| Experience | 9 Years |
| Qualification | MA |

VINITA MARWAHA

| | |
| --- | --- |
| Experience | 4 Years |
| Qualification | mba |
ALOK SINGH

| | |
| --- | --- |
| Experience | 9 Years |
| Qualification | MA. Economics |

SHIKSHA MISHRA

| | |
| --- | --- |
| Experience | 5 Years |
| Qualification | M.SC zoology |

BANSHI SONI

| | |
| --- | --- |
| Experience | Fresher |
| Qualification | B.TECH |

MAYANK MALLIK

| | |
| --- | --- |
| Experience | 5 Years |
| Qualification | M.A ENGLISH WITH B.ED |
RAHUL RANA

| | |
| --- | --- |
| Experience | 2 Years |
| Qualification | qraduate from bcom( hons) |

SAKSHAM JOSHI

| | |
| --- | --- |
| Experience | 8 Years |
| Qualification | Advanced Diploma in French |

PARIKSHIT SHARMA

| | |
| --- | --- |
| Experience | 1 Years |
| Qualification | Graduate in English Literature |

MANISH KUMAR

| | |
| --- | --- |
| Experience | 3 Years |
| Qualification | B.Sc.(major) Physics with mathematics |
ROBIN

| | |
| --- | --- |
| Experience | 12 Years |
| Qualification | M.A |

NISHA DHANWANI

| | |
| --- | --- |
| Experience | 3 Years |
| Qualification | Graduate |

ABHISHEK SHUKLA

| | |
| --- | --- |
| Experience | 8 Years |
| Qualification | MCA |

SHIVAM ARORA

| | |
| --- | --- |
| Experience | 5 Years |
| Qualification | Graduation and pursuing Chartered accountancy course |

Ruchika Mehra
(Review on Facebook)

Chetan Chaudharii
(Review on Facebook)

Misthi Sheoran
(Review on Facebook)

Prerna Rai
(Review on Google)